BANGER 2.0 700 Cyclocross
Banger 2.0 is a system which uses a very low density technopolymer designed and developed specifically for the MTB sector. It can be inserted into any tubeless tire and rim setup tire and is easy and fast to assemble (10 seconds) on any type of tubeless-ready rim available on the market. Banger reduces the volume of air inside the tire by 95%, taking the wheel set to a 2.0 level.
Shocks are absorbed, vibrations are reduced and feeling and stability increase markedly. Once you've added Banger 2.0 just a few meters are enough to discover totally new features of your bike. Thanks to Banger's super-light techno compound and its elasticity it guarantees smooth sensations, speed and safety. Banger also provides incredibly efficient "flat prevention", reducing the risk of punctures or cuts to your tire by 90%.
The kit include:
2 Banger
2 Tubeless Valves (50mm)
1 Valve Core removal tool + oRing
2 "Banger by MrWolf" stickers
2 MrWolf stickers studied for Carbon Frame
SUITABLE FOR EVERY BIKES
Banger 2.0 is suitable for any type of user, from amateurs to professionals, and is available for all formats currently on the market. Banger is available in diameters 26″, 27.5″ and 29″ and in 4 different sizes: Small, Medium, Mid-Plus and Plus.
Now also available in the new size dedicated to Ciclocross & Gravel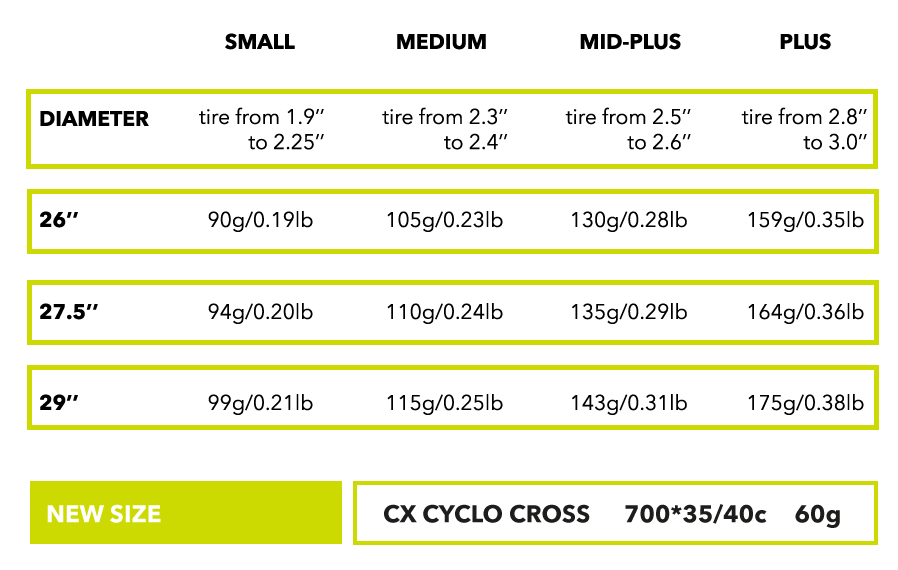 HOW DO I CHOOSE THE SIZE OF MY BANGER?
In the MTB'wolrd there are dozens of tire manufacturers and thousands of types of tires, compound and casing.
In this vast and not-standard world we have tried to develop a product that would ensure the best fit from XC to PLUS.
Obviously there are exceptions, and of course the set up may not always be extremly simple. To ensure a fast set up and incredible performance we have created this board which, considering the main manufacturers, helps to choose the best Banger for your tire.
The basic rule for non-reinforced tires is this:
From 1.9" to 2.25" declared → Banger Small
From 2.3" to 2.4"   declared → Banger Medium
From 2.5" a 2.6"    declared → Banger Mid-Plus
From 2.8" a 3.0"    declared → Banger PLUS
In the case of reinforced tires with DualPly / DH casing, it is necessary to drop 1 or even 2 sizes:
From 2.3" to 2.4"   declared → Banger Small
From 2.5" a 2.6"    declared → Banger Medium/Small
The "truth test" we suggest to do before the set up is:
insert the Banger inside the tire (not mounted on the rim);
approach the flaps of the rubber to get them touched;
if the flaps touch, or the space is less than 10 / 15mm the size is correct;
if the flaps remain at a distance of more than 20mm (for rims from 20mm to 30mm) or 30mm (for PLUS rims with inner channel 30 / 35mm) the size is definitely wrong and we invite you to replace it with a lower size or a tire with a more generous section.
Proceeding anyway with the set up in most cases leads to damaging the cells or the outer surface of the Banger with the result of a premature degradation of the system and reduction of lifetime.
Set up a Banger with a "lower size" does not mean having lower performance, but simply a correct product for the tire you are using.
Above you can fin a scheme with the most used brands and casing:
MAXXIS

Casing
EXO / TR
DoubleDown
DH CASING
till 2.20″
SMALL
–
–
till 2.3″
MEDIUM
SMALL
SMALL
till 2.4″
MEDIUM
SMALL
SMALL
till  2.6″
MID-PLUS
MID-PLUS
MEDIUM
till  3″
PLUS
–
–
SCHWALBE

Casing
TLE
SuperGravity
Downhill
till 2.25″
SMALL
–
–
till 2.35″
MEDIUM
SMALL
SMALL
till 2.5″
MID-PLUS
MEDIUM
MEDIUM
till 2.6″
MID-PLUS
MEDIUM
–
till a 3″
PLUS
–
–
CONTINENTAL

Casing
TubelessReady
Apex Protection
Downhill
till 2.2″
SMALL
–
–
till 2.3″
SMALL
SMALL
–
till 2.4″
MEDIUM
MEDIUM
SMALL
till 2.5″
MID-PLUS
MEDIUM
MEDIUM
---
WHICH TYRE SEALANT HAVE I TO USE?
Banger is compatible with all tyre sealant.
Suggested quantity:
XCountry → 50cc
Enduro → 50/60cc
Mid-Plus → 50/60cc
PLUS → 60/80cc